Why You Should Use a Custom Domain Name For Your Website in 2023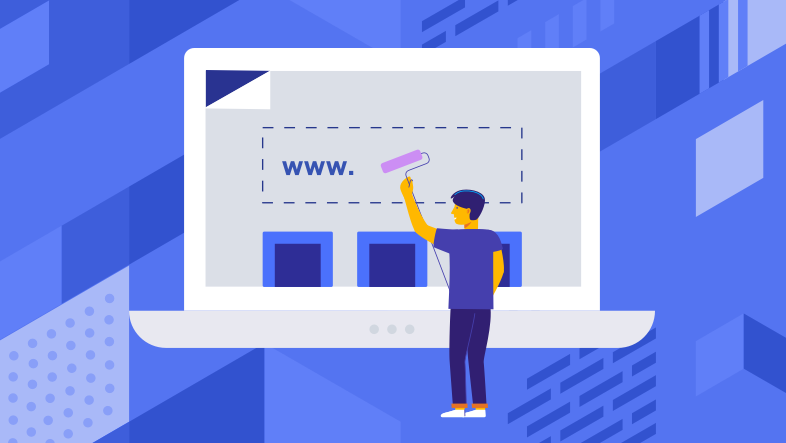 Why You Should Use a Custom Domain Name For Your Website
Websites are essential for bloggers and businesses. They provide a way for people to gather information, to interact, and to foster purchases that facilitate e-commerce.
The problem is that just having a website isn't enough. You need to have a professional website to ensure that you can connect with your visitors, to facilitate desirable actions, and to ensure that your visitors don't leave your website for another one.
To improve your website's image, the first thing you need to consider is a custom domain name. This allows your website to begin building itself up as a professional resource for your visitors.
Let's explore both what a domain is and why you should register a domain to improve your website.
What is a Domain Name?
Domains are text-based addresses that redirect to the IP addresses of websites. They allow visitors to remember your website without having to rely on other means, which in turn improves both the appearance of your website and how it spreads by word of mouth.
Often, if you use a free offering for your business site or blog, you will be forced to use a subdomain. For instance, if you have a blog on WordPress, you might have a subdomain something like myblog.wordpress.com. The main domain, or second-level domain is wordpress.com, and the subdomain is myblog.
If you register your own domain name, you can have a custom domain names such as myblog.com or mybusiness.org. So, you can dispense with the need to have a different brand, in this case wordpress, shoved into the middle of your web address. With a custom domain, you can make use of a keyword, brand or name followed by a top-level domain (e.g. .com, .net, .org, .info) to give both a better appearance and an easier way for visitors to remember your website.
Why Should You Use a Custom Address?
Most small business owners and bloggers tend to go with subdomains when they utilize free websites and services, but this can be a considerable mistake. In doing this, they miss out on all the advantages that a custom address can bring to your website.
To best understand the reasons you should register a domain name, let's take a look at what a custom web address can do for your website.
It gives your website an undiluted brand: Subdomains are meant to act as smaller domain names for websites. When a visitors sees something like "WordPress.com" in your website, they assume you are part of or related to WordPress.com. A custom domain will allow your website to have an undiluted image, which in turn will make your website far more memorable to your visitors.
URLs and email addresses are entirely your own: If you receive emails from visitors or URLs to your website are shared with a custom web address, they are entirely your own. There is no dilution, which means that the people you interact with associate your domain with your business or blog when they see your email address or see a URL posted to your website.
Visitors take your business seriously: Visitors to your website automatically assume you are unable to afford or unwilling to register a custom domain when you utilize a free subdomain. This can tarnish the appearance of your business of blog, which in turn can hinder you from reaching your goals. Visitors recognize a website with a customized web address as one that is both serious and professional.
You're in control of your email addresses: Free hosts typically force you to utilize one or two email addresses when they allow you to have one. These look tacky and may appear as spam due to their randomized nature. Custom web domains allow you to set up any email address, which even includes [email protected], for use as your email address.
Your website becomes more flexible: A custom domain allows you to modify your website at your leisure. You can create subdomains, such as blog.mydomain.com or specials.mybusiness.org, that can make it significantly easier for visitors to reach certain parts of your website or blog. This facilitates interaction and increases the usefulness of your website to visitors.
You can host your website where you want: Because the link between your visitors and your website becomes your domain, you can host your website wherever or however you would like. This allows you to pick a host that suits your needs or provides a more reliable service.
No more provider restrictions on your website: The best advantage of a custom web address is the fact that your can run your website as you want. You no longer have to comply with the restrictions set forth by a provider, as you are now free to host your own website. This power can increase the diversity of your content, make it easier to interact with your customers, and allow you to provide new and innovative features to your visitors.
A Custom Web Address: The Building Block to a Fantastic Website
If you want your website to reap the plethora of irreplaceable benefits listed above and then some, then the choice should be clear. You should use a custom web address to make your website stand out, to impress your visitors, and to facilitate business.
Given that the cost of a custom web address is incredibly affordable, it is but a small price to make your website even more professional, more useful to your visitors, and more representative of your business or blog.
Don't settle for free subdomains when it comes to your website. Register a domain name today.